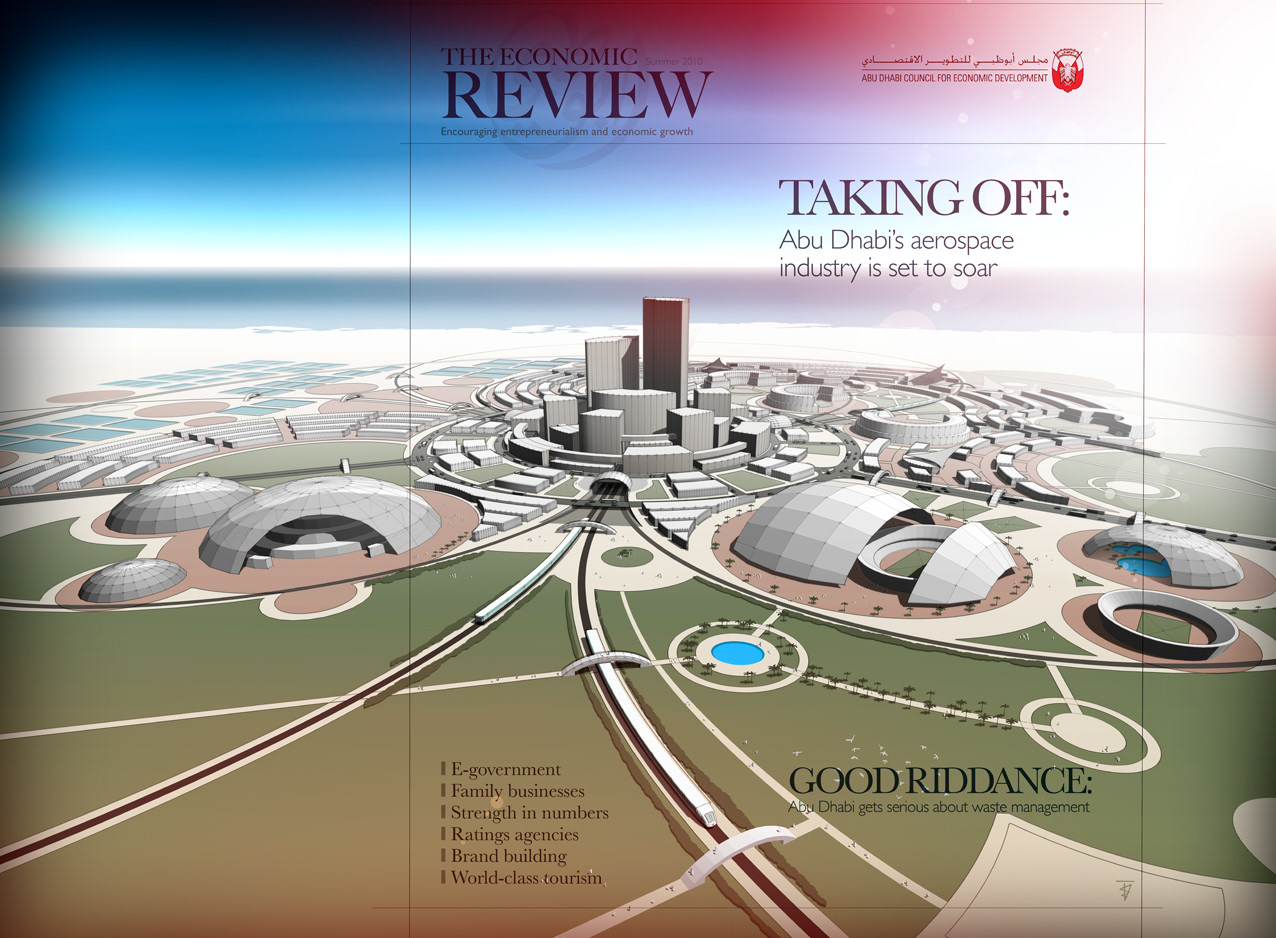 Brief: 

To produce a front cover and lead feature image. Both illustrations are to follow the style of the Toyota transport utopia piece you did.
Creative: 

Please refer to the sketch [see visual briefs below] for how the lead feature will look. Four separate stacked layers to show different slices of life in Abu Dhabi. We would like the cultural/livable city to be the top layer, so please follow the order below.
The cultural/livable city

– features cultural and recreational amenities (such as museums, galleries, shops, sports centres) all connected together with shaded walkways (bearing in mind the climate) and communal areas (cafés, green and open spaces, etc) for people to stop and socialise with friends and family.



The socially sustainable city

– This layer should be about integrating the social aspects of communities (schools, universities, hospitals, government services) into residential areas so that people can access the services they need without having to travel too far. Communities should be linked by integrated public transport systems (metro, bus, rail) that are accessible enough to deter private car use.



The environmentally sustainable city

– In addition to outwardly visible environmental initiatives such as solar panelled buildings, efficiently designed utility corridors, etc, an environmentally sustainable city is also about designing areas to create genuine choice of movement (walking, cycling, public transport) and encourage environmentally friendly behaviour through access to local recycling centres, etc.



The economic/competitive city

– This is about giving businesses access to a high-quality business district with environmentally sustainable office buildings, cutting-edge information technology (high speed broadband, etc), public spaces that are conducive to the way of doing business in Abu Dhabi (i.e. Building relationships forms the basis of doing business so there should be public spaces where interaction can take place in a relaxed manner in a comfortable environment, with access to restaurants, cafés, etc); integrated transport links should be excellent with easy access to highways/airports and rail links in and out of the city.
As these ideas are being implemented into a city that is evolving, I would like to see areas on the edges that are empty (in terms of life) and are being developed. These areas could include exposed underground pipes, men at work signs and earth moving machinery.

The front cover must follow the sketch and integrate all elements of the above four slices.